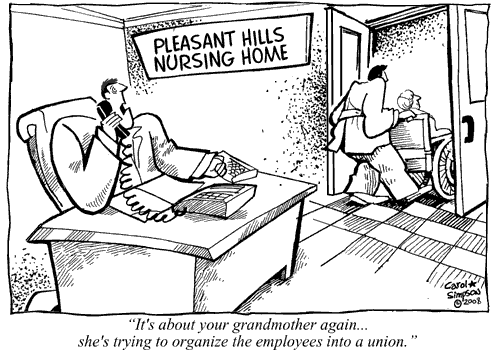 Image Credit: Carol Simpson
Recently, Craig Klugman wrote a thought-provoking blog entry over at bioethics.net on long-term care options for elderly persons.  While humane ones do exist that are designed for human flourishing, such as a new chain of purpose-designed communities where elderly folks have access to developing new skills in the visual and performing arts, these are often very expensive.
More often, facilities which provide in-patient nursing care still significantly "warehouse" their residents, providing medical care but treating the elderly as people waiting for death rather than persons who can still grow and learn and contribute. National Public Radio has an ongoing investigative news series called "Home or Nursing Home: America's Empty Promise to Give the Elderly and Disabled A Choice." In that series, NPR reporters chronicle many of the same kinds of difficulties Klugman discusses in his blog entry.  Long-term care facilities have notoriously high staff turnover rates, in part due to difficult working conditions but also due to low pay.  In-home careworkers are similarly poorly paid. 90% of these direct care workers are women, and earn an average of approximately $17,000/year. This is due in part to the fact that the federal law governing wage and overtime protections, the Fair Labor Standards Act (FLSA), explicitly does not cover home care workers. Even facility-based care workers receive very little pay.
Continue reading