The news is grim.
He said four people were killed and 60 wounded when the shells landed in the administration building, the intensive care unit and the surgery department.

A doctor at the hospital, Fayez Zidane told Al Aqsa TV station, a broadcaster affiliated with Hamas, that shells hit the third and fourth floor as well as the reception area.
Another source reports similar events.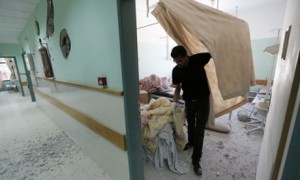 There has been a noted lack of response by the biomedical and bioethical community, and the purpose of this post is not to offer particular views of the conflict itself, but to nudge us toward a conversation about where we, as bioethicists and as feminists, stand with respect to the above.  Is this now not just a humanitarian, political, and military crisis, but a biomedical one?  Is it the case that once hospitals are a part of the destruction  –  whether intentional or accidental  –  we ought to enter the public arena and draw a line beyond which no conflict ought to go?
It is, of course, not the first time that hospitals have been a part of the "collateral damage" of war, and nobody has clean hands.
But this is not a post about clean hands.  What I am posing is a more practical and immediate question:  what do we do?  What do we say?  How do we address this ongoing nightmare in a way that makes the best use of our scholarship, training, and voices?
Personally, I am not sure.  But I look forward to your responses and ideas.