Give me your tired, your poor
Your huddled masses yearning to breathe free,
The wretched refuse of your teeming shore.
Send these, the homeless, tempest-tossed, to me:
I lift my lamp beside the golden door.
– Emma Lazarus
I'm writing this post in Toronto, Canada, in a snowstorm. It's warmed up enough to snow today, which is a relief. The past week has been cold and clear, sun in the day and stars at night. Starry nights in the winter are the coldest, when it feels like the upper atmosphere is screaming straight down onto the surface of Earth and the stars glint like ice illuminated. It's on these recent nights that smugglers have slid open truck doors, and pushed people into the dark.
There has been a spate of incidents of refugees from Africa-via-United-States conspicuously arriving in or around Winnipeg and Toronto, which is getting attention for two primary reasons. The first is their horrendous injuries due to frostbite. The second is, well, this just doesn't usually happen.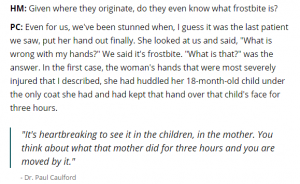 Refugees don't need to be smuggled into Canada – they can arrive at any border and they won't be turned away. These refugees, too, are coming from the United States, so they could have just stopped at the normal border crossings and entered the country. Why are people paying to be smuggled into Canada from the US? Why are they risking and suffering so many weather-related injuries?