Sandhya Somashekhar's recent article in The Washington Post, "States find new ways to resist health law", provides a nice overview of some of the ways that states are throwing up obstacles to effective implementation of the Patient Protection and Affordable Care Act (PPACA). With the Affordable Care Act set to be implemented, blocking its effective implementation raises serious moral issues. Though it is an imperfect solution, I believe that these state-based obstacles to its implementation are deeply morally problematic because the costs of non-compliance fall on individuals while the politicians who have put these obstacles in place face little or no personal or political cost, and indeed stand to gain.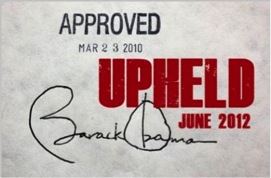 While I am arguing here that blocking implementation of the PPACA is deeply morally problematic, it is important to acknowledge that it is an imperfect solution to America's glaring problem of uninsured persons and expensive, inefficient provision of health care.  The PPACA or ACA, known colloquially as "Obamacare", will work to get more Americans into the health care market and provide more access to preventive care for high- and low-risk patients, alike.  Aside from the very valuable limitations on health insurers' ability to refuse to provide coverage for high-risk patients and stop providing coverage for ill patients, it is still based on the for-profit health insurer model as evidenced in part by the early elimination of a government-based "public option" which would have competed with insurance industry plans.  In addition, a large number of Americans who get insurance through their employers, yet find the premiums taxing and fall into otherwise-subsidized income ranges, will not have access to the federal subsidy system which is designed to give financial support to those entering the market through the health insurance exchanges.
Nonetheless, the benefits of the plan do seem to indicate a significant improvement over the status quo for large numbers of Americans and for the system as a whole. From a utilitarian perspective, this is a good thing, though the PPACA in its current form may not be the best solution resulting in the greatest improvement. Nonetheless, it is morally superior to the system as it stands.  From a purely practical perspective, a Supreme Court decision in June of 2012 has paved the way for its general implementation by 2014, with certain elements delayed from the original schedule until 2015.  That decision was a response to an attempt by a number of states to prevent implementation of the PPACA on grounds that it was an unconstitutional use of federal powers to regulate interstate commerce, among other things.  27 states attempted to block implementation of the Affordable Care Act.  In the end, none succeeded and the nation moves toward implementation.
It is in the face of this actual implementation that states continue to place obstacles.  Having failed in claims of unconstitutionality, organizations such as the Tenth Amendment Center and ALEC, which produced a State Legislators Guide to Repealing Obamacare, have been agitating for resistance to the ACA at the state level.
Many states have now implemented a laundry list of obstacles as detailed by Somashekhar:
Refusal to establish the health insurance "exchanges" which provide a centralized location for uninsured Americans to compare and shop for health insurance plans
Accepting "exchanges" only if run jointly with federal resources
Refusing to accept federal funds to expand Medicaid for Americans whose income is so low that they cannot reasonably be expected to purchase health insurance, even with subsidies
Blocking or restricting the work of "navigators", persons tasked by the PPACA with helping uninsured Americans navigate the exchanges and the requirements of the law

Ohio example: navigators prohibited from helping clients compare and contrast plans
Missouri example: navigators must cease all advising if they determine the client has spoken with a professional insurance broker or agent.
Not enforcing some of the Act's consumer protections, including "the rule that bars insurers from rejecting applicants with preexisting conditions and a provision that requires insurers to spend at least 80 percent of the premium dollars they collect on medical care"
Most of these measures originate in state legislatures, but not all.  In close-to-home news for me, citizens of the state of Missouri passed a ballot measure in 2012 which prohibits state and local officials from giving "assistance or resources of any kind" to a federal exchange.  The measure also empowers Missouri officials and taxpayers to sue any state or local officials who do provide assistance or resources.  As a result, information for Missourians—be they employers or individuals—on how to comply with the Affordable Care Act is, as Robert Pear has documented in The New York Times, hard to find or non-existent.  In North Carolina, Governor Nikki Haley returned the vast majority of federally-provided "customer assistance" funds and is one of the 26 states letting the federal government shoulder the burden of setting up exchanges. Distressingly, just under half of Americans were not even aware that the Affordable Care Act is still the law of the land as of April, 2013.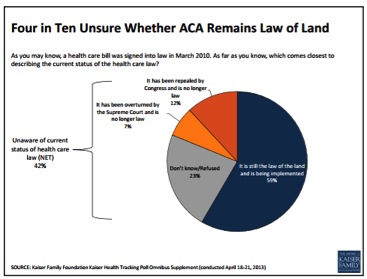 The individual mandate has been deemed acceptable by the Supreme Court, and enforceable via IRS powers of tax penalty for those businesses which violate requirements for employer-provided insurance and those individuals who lack personal insurance and are required by law to have it.  As a result, I expect the cost of these state obstacles will take three forms.  First, individuals will not be able to get appropriate health insurance due to lack of access to navigators, obstacles in establishing and populating exchanges, and refusals to expand Medicaid programs despite initial and ongoing federal funding of such expansions.  These individuals may be underinsured when they could be well-insured, or end up paying more for plans that nonetheless underinsure them. Second, some individuals will not be able to get health insurance at all due to inability to navigate the subsidy system and the exchanges. These persons and families will be assessed penalties as per the enforcement provisions for the individual mandate.  Third, employers may find it difficult to comply with the Affordable Care Act due to lack of information and infrastructure, as has been reported in Missouri. Some of the employer-based requirements have been pushed off until 2015 for just this reason. If states do not provide employers with support in meeting their obligations under the Act, employers will also suffer.
Individuals who fail to be well-served by the PPACA because of these obstacles will, in turn, be more likely to blame the proximate cause of their suffering: enforcement of health care reform by the federal government.  Politicians who obstruct implementation therefore gain politically and are able to claim righteous defense of their genuine political principles against federal involvement in the business of health care.  They also may claim, as Ed Haislmaier of the conservative Heritage Foundation does, that "[t]he legislation is not necessarily a good deal for states, and it is quite in the interest of states to do what they are doing." It may be in the interests of the states, but not in the interests of their citizens.
In continuing to obstruct the PPACA after failing to prevent its implementation, states harm their constituents.  Obstructionists motivated by a principled mistrust of big government work against their own expressed principles by increasing federal control over the exchanges in the many states which have abrogated their right to run the exchanges in whole or in part. I realize that many who claim the PPACA is a threat to the states claim that it is therefore a threat to the citizens of the state. What they fail to acknowledge is that continuing to place obstacles in the way of implementing the Affordable Care Act, and specifically obstacles which make it difficult for citizens to get appropriate insurance and comply with the Act, is also a direct threat to the citizens of the state.  Whether inflicted by politicians or by voter referenda, such obstacles will cause harm.  And that harm is avoidable at the state level.  Any harm that may be argued to come from the PPACA, itself, is no longer is avoidable at the state level.
If there is one moral maxim which most people can get behind, surely it is that we ought not to impose avoidable harm. To avoidably impose this harm by preventing citizens and employers from meeting the Affordable Care Act's requirements, and refusing to allow the PPACA to do its imperfect good work, is wrong.
CODA
In fairness, I acknowledge that the federal government has also done a poor job of publicizing the PPACA's requirements and supports.  Of course, the law was designed such that at least some of this education would be done at the state level so that citizens would be aware of the particular resources available to them state-by-state. Nonetheless, the Obama administration also bears responsibility for the lack of effective information, and has relied heavily on citizens to seek out information at the relatively well-designed website which provides information on Obamacare. According to a recent Kaiser Family Foundation health tracking poll in August of 2013, federal education efforts are generally not reaching people where they are. That President Obama and his administration have not adequately harnessed media and campaign techniques to educate the public about the law is problematic.  But it does not absolve state-level actors of their moral responsibility for the harmful consequences of their deliberate obstruction.